Subscribe to Wisdomsdoor.com RSS Feeds
Press here to Subscribe to RSS Feeds
---
The RSS feeds on Wisdom's Door will alert you when there are any additions or changes to WD content.
All latest versions of browsers have some form of RSS reader built into them, or you can get stand alone programs. Just press on the orange RSS Icon and then on the next screen select subscribe.
RSS feeds make it possible for you to keep up with you favorite web sites in an automated manner that's easier than checking them manually. You subscribe to a feed by entering the feed's link into the reader or by clicking an RSS icon in a browser. This initiates the subscription process. The reader/browser then checks your subscribed feeds regularly for new content, automatically alerting you to any changes and providing quick links to the new content. The Orange RSS icon has become the non-default standard that indicates a website page contains a subscribable feed.
Due to heavy email spam and email spam filtering I have abandoned the traditional mailing list idea and gone for this newer, less evasive Web 2.0 method of broadcasting website changes.
RSS Feed Troubleshooting:
If you press the subscribe RSS link above and get some cryptic text instead of a subscribe page, then your web browser needs to be updated to a newer version (or in the case of Google Chrome, it does not support RSS feeds, use firefox). Please download a newer version of that browser or try another one on your computer. Browsers that display RSS feeds properly will list them in a nice order, usually by date and offer some kind of button to add this feed to the browsers RSS feed checking routine.
If you use your browser's internal RSS reader/checker and if you change browsers, keep in mind that your subscribed feeds will no longer be checked. You will have to re-subscribe to your feeds using your new browser. This only affects those of you that use your browsers to subscribe. If you use an external RSS reader program than this program and not the browser will alert you to any changes. For most people it is easiest to use the browser's built in RSS reader/checker.
Need a news reader: As Google news feeds is no more, if you are looking for an alternative or your browser does not support rss feeds, then you can use the free service Feedly to keep track of website updates. Just click on the icon below. You will need to create a free Feedly account for it to automatically inform you of updates to this website. My other choice is to use Firefox built in news feed reader. But that only works if you use Firefox web browser.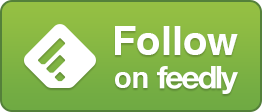 ---
Press here to Subscribe to RSS Feeds